Specialist Details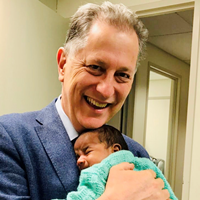 Dr John Keogh



Specialty
:
Obstetrics & Gynaecology
Infertility
Advanced Endoscopic Surgery
Advanced Operative Laparoscopy

Qualification
:
MBBS (Hons), Dip Paed, FRCOG, FRANZCOG
Gender
:
M

Practice 1
:
San Clinic
Suite 304, 185 Fox Valley Road
WAHROONGA
Phone: (02) 9473-8747
Fax: (02) 9473-8748
Profile
:

I graduated from Sydney University. I did general medicine and paediatrics for the first five years. I saw my future as a rural GP, however as part of my training for this I did a Diploma of Obstetrics and Gynaecology in Sutherland Hospital. I immediately loved it and after 12 months further training in the UK decided to make it my career. I haven't looked back since.

I did my Obstetrics and Gynaecology training in Sydney, England, Dublin (where I met my wife) and Perth with the opportunity to work briefly in Tanzania along the way. After finishing specialist training in Western Australia I took a job as a Senior Lecturer in Obstetrics and Gynaecology at King Edward Hospital and the University of Western Australia for three years. It was there I commenced my research career in the causes and outcomes of babies born with neurological problems in the first week of life.

When my wife was offered a job in Sydney at the Children's Hospital at Westmead, I moved to Hornsby Hospital where I was a Senior Staff Specialist and later Head of the Department of Obstetrics and Gynaecology for ten years. It was a wonderful ten years in which I oversaw the care of thousands of families during pregnancy and had a busy gynaecology commitment. We were also lucky enough to have two girls of our own. After ten years at Hornsby I decided to move into private Obstetrics. I joined colleagues at the Sydney Adventist Hospital and have rooms in the San Clinic with Dr Andrew Booker. Together with the Midwives and our wonderful secretarial staff, it's a great team and one I'm delighted to be a part of. I look forward to continuing with this wonderful team of colleagues for the next ten years.

Research
:

I started my research career in 1994 with my wife, who is a neonatologist, and I started the Western Australian Newborn Encephalopathy Study. This was a case-control study of babies, born at term, who in the first week of life had abnormal neurological signs such as seizures, abnormal tone or reflexes or who had difficulty feeding or breathing because of underlying neurological problems. We realised that though there were studies which described these babies, they had not recruited a control group which meant they were unable to say what factors were significantly associated with this problem. Indeed there was an assumption in the literature that this was mainly a problem of birth.

With the increasing evidence that severe problems such as cerebral palsy had their origins often well away from the day of birth, we realised that work needed to be done to more fully map the associations with newborn neurological problems. In what remains the largest population based case-control study of "newborn encephalopathy" in the world we were able to describe and quantify associations which were previously unknown, such as thyroid disease in the mother, family history of epilepsy, growth restriction, post dates pregnancy, social factors and many others. The key papers were published side by side in the BMJ in 1998. Since then we have followed these children up to school age with close neuro-developmental monitoring of cases and controls to look at outcome. These papers have been published in the paediatric literature. I now have over 40 publications in peer-reviewed journals, invited articles and commentaries and a book chapter. I am part of the International Cerebral Palsy Taskforce. I have an ongoing research link with the TVW Telethon Institute for Child Health Research.
Back to Top