Specialist Details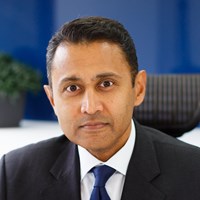 Dr Krishan Rasiah



Specialty
:
Robotic Surgery
Urology

Qualification
:
MBBS (Hons) PhD FRACS(Urol)
Gender
:
M

Practice 1
:
Dee Why Grand, Suite 4120, Level 1
834 Pittwater Road
DEE WHY
Phone: (02) 9439-8867
Fax: (02) 9982-8650
Practice 2
:
AMA House
Suite 401, Level 4, 69 Christie Street
ST LEONARDS
Phone: (02) 9439-8867
Fax: (02) 9982 8650
Profile
:

Dr Rasiah is an honours graduate of University of Sydney in 1992. He completed his Urological training and received his fellowship from the RACS in 2002. Dr Rasiah entered full-time research and completed his PhD at Garvan Institute in 2006 and continued his appointment as Head of Academic Urology of the Cancer Research Group of the Garvan. Dr Rasiah undertook further training in 2004 and 2005 with a Clinical Fellowship in Uro-Oncology at Addenbrooke's Hospital, University of Cambridge under the mentorship of Professor David Neal. Dr Rasiah's area of expertise and interests are in General Urology including stones of the urinary tract, BPH and laproscopic surgery. His specific areas of surgical interest are cancers of the urogenital tract including prostate, renal and bladder cancer. In addition to his appointment at Sydney Adventist Hospital, Dr Rasiah is a consultant Urological Surgeon at Royal North Shore Hospital, Manly and Mona Vale Hospitals.

Research
:

Research Interests include discovery of molecular markers of outcomes in prostate cancer. Dr Rasiah is the recipient of a Cancer Institute of NSW Clinical Fellowship (2007 -2009). His more recent work supervising Masters of Surgery candidates at the University of Sydney has been focussed on the quality of life outcomes of men undergoing contemporary treatments for prostate cancer. His role as Clinical Leader Prostate and Urological Cancer with the Northern Sydney and Central Coast Area Health is also associated with his research interest in the improvement of delivery of multidisciplinary care of patients with urological cancer.
Back to Top